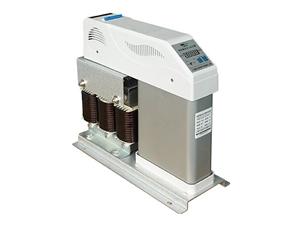 Applications
Our intelligent reactive power compensation capacitor can be used in electrical systems with inductive load of low voltage, and is especially suitable for city power systems, urban power systems, mining factories and petroleum factories. Our capacitor is able to perform monitoring, network communications and autonomized controlling. It is composed of intelligent monitoring module, zero switching module, protection module, intelligent communication module, human-computer interface module and capacitors.
This device is able to replace the traditional reactive power compensator, which is controllers, fuse wires, combined switches, thermal relay, low-voltage capacitors and indicators connected by wires.
Size specifications
83(height) mm×365(depth) mm×310(max height) mm (three-phase compensation)
83(height) mm×365(depth) mm×340(max height) mm (split-phase compensation)
Fixing hole size: 310(width)*85(depth) mm, φ6.5mm
Intelligent capacitive mounting pitch ≥ 50mm
The description of the compensation capacity of each cabinet type
Cabinet size
600*600*2200
800*600*2200
800*800*2200
1000*800*2200
1000*1000*2200
Maximum compensation
capacity
320Kvar
480Kvar
480Kvar
560Kvar
800Kvar
Product selection and size

Compensation
method
Specification
and model
Capacity
(Kvar)
Rated
voltage(V)
Size of equipment
W*D*H(mm)
Fixed hole spacing
W*D(mm)
Three phase
compensation
BCWC08RS/450-20+20
40(20+20)
450
83*365*310
85*310
BCWC08RS/450-20+15
35(20+15)
450
BCWC08RS/450-20+10
30(20+10)
450
BCWC08RS/450-15+15
30(15+15)
450
83*365*280
BCWC08RS/450-15+10
25(15+10)
450
BCWC08RS/450-10+10
20(10+10)
450
BCWC08RS/450-10+5
15(10+5)
450
83*365*240
BCWC08RS/450-5+5
10(5+5)
450
Split phase
compensation
BCWC08RF/250-30
30
250
83*365*340
BCWC08RF/250-25
25
250
BCWC08RF/250-20
20
250
83*365*310
BCWC08RF/250-15
15
250
BCWC08RF/250-10
10
250
83*365*280
BCWC08RF/25
5
250
Note
1. Split phase compensation intelligent low-voltage capacitor without two level capacity.
2. The product is suitable for harmonic voltage total distortion rate of less than 5% of the electric field.
Features
The intelligent reactive power compensation capacitor features synchronous switching technology. With the monitoring of voltage and current signals, it can control the signal processing time of units and switching times, and corrects zero switching by itself. Using this capacitor can decrease the switch with load switching inrush current, extending the lifetime of devices.
1. Allele communication
Multiple low voltage capacitors can build up an allele communication when connected with wire. You choose one device to be the master and other devices become its slaves. When any device falls, it can stop working and the left will make up a net network. The system make capacitors of the same properties work in turn to avoid too much workload on a single device.
2. Simultaneous zero switching function
The voltage capacitor can automatically adjust the operating time of the switch and control the inrush current in a reasonable range. When the current of the low-voltage capacitor crosses zero, it turns off the circuit automatically. This technology is protected by our patent (patent No: 2014101496358).
3. Multiple protections
Including over voltage, under voltage, surges, high temperature, harmonics, phase losses and unbalanced phase protections.
4. High atomization rate
There is no need to set the device address. When using multiple devices as a system, you only have to set the current transformer ratio on the main device, and all the other follows automatically. When adding or changing devices, the system will sync your parameter settings on the new device.
5. Optimization of capacitor balancing algorithm
In real world applications, the user should select the most suitable capacitor according to factors such as the using frequency of capacitor, the accumulated time and the temperature.