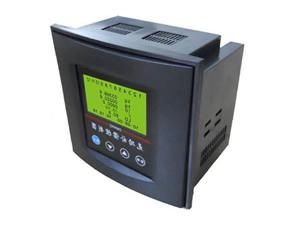 Applications
The static VAR compensator controller is a device with micro-processor core. It monitors voltages and currents of a three-phase system, and features 6 kinds of instantaneous and full compensation strategies and 12 kinds of switching programs. The control can also be adjusted and it will remember the changes. Our controller can be used for auto controlling of reactive power compensations in electrical systems of 45Hz-65Hz under 0.4KV.
Technical parameters
1. Rated voltage: AC 220V±20%.
2. Rated current: AC 0-5A.
3. Rated working frequency: 45Hz-65Hz
4. Power factor display: 0.001 lagging - 0.01 leading
5. Under voltage protection: 170V
6. Capacity for static output terminals (each route): AC 220V 7A
7. Sensitivity: 50mA
8. Dynamic output capacity (each route): -12V 10mA
9. Power consumption: 10VA
10. Model size:
JKWF-12S 122mm×122mm×99mm
JKWF-16 144mm×144mm×87mm
JKWF-12S 113mm×113mmm
JKWF-16 138mm×138mm
Installation
Embedded mounting hook attachment fixed.
Embedded mounting reverse gear, attachment fixed guide rail.
Environment requirements
1. Altitude under 2500 meters.
2. Temperature -20℃-50℃.
3. Humidity under 50% at 50℃, and 90% at 20℃.
4. No caustic gas around, no conductive dust and no flammable substances.
5. No severe vibrations at the installation place.
Features
Our static VAR compensator controller calculates switching capacitances with fundamental reactive powers, and can avoid many kinds of switching shock, and is able to display the power factor accurately even if there are harmonics.
The power factor measurement is accurate and the display range is broad.
Displays power factor and fundamental power factor (COSφ) in real time.
12 kinds of programmed output are provided.
At most 6 kinds of compensation strategies are provided.
16 routes of output at most.
The interface is easy to operate.
All the control parameters can be customized.
Works in either manual or auto mode.
Features over voltage and low voltage protections.
Power failure protection avoids any data loss.
Current signal input resistance under 0.01Ω.
Broad range for power factor adjusting.