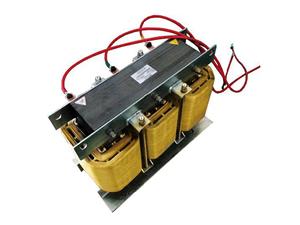 Applications
Our LKSG three-phase low voltage filter reactor can be applied in low voltage filter cabinets with series connection of filter capacitors. It can change the frequency of harmonics to a certain range, and absorbs harmonic currents in the electrical system.

Technical parameters
1. Compatible with electrical systems under 1000V.
2. Rated insulation level 3KV/min.
3. Temperature rise ≤ 75K.
4. Standard noise level ≤ 60dB with customization available.
5. Reactance error under ±3%.
6. Temperature classification: B or H.

Specifications
Five filter reactor

Reactor model
Inductance
(μH)
Humorous
capacitor
Rated
current(A)
Outline size
L*W*H mm
Install size(mm)
LKSG-0.4-25(~372)/ 1986(~132)
1986(~132)
16~250
25~372
225*155*200
175*95, 4-φ8
……
……
420*350*545
360*245, 4-φ12
Seven filter reactor

Reactor model
Inductance
(μH)
Humorous
capacitor
Rated
current(A)
Outline size
L*W*H mm
Install size(mm)
LKSG-0.4-24(~182)/ 1009(~127)
1009(~127)
16~120
24~182
205*155*155
155*95, 4-φ8
……
……
250*210*340
200*125, 4-φ12
Eleven filter reactor

Reactor model
Inductance
(μH)
Humorous
capacitor
Rated
current(A)
Outline size
L*W*H mm
Install size(mm)
LKSG-0.4-24(~180)/ 438(~28)
438(~58)
16~120
24~180
205*145*135
155*75, 4-φ8
……
……
235*205*240
360*245, 4-φ12
Note: the capacitor voltage is 525V
Features
1. Two kinds of dry series reactors with iron cores are provided: three-phase and single-phase.
2. The iron cores are made from cold rolled silicon steel of good quality. The core is separated evenly by air vents. Epoxy coat are applied in the gaps with special glue to ensure the air vents unaffected when the device is working.
3. Coils can be either wire wound or foil wound.
4. Every reactor undergoes the drying, vacuum varnishing and drying process. We use ET-90N dip varnish to ensure the tightness of reactor coils and cores.
5. All the clamping devices are made of non-magnetic material and are corruption-proof. These add to the quality factor of the filter reactor and make it perform better.
6. All of the outer parts are corruption-proof and the terminals are all tinned.