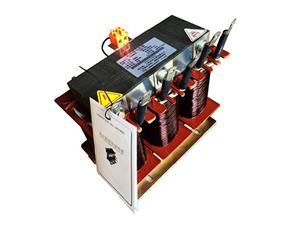 Applications
The OCL three phase AC output reactor can provide smooth filtrations and lower the transient dv/dt. Our output reactor can also help reduce motor noises, avoid eddy current loss, reduce the leakage current caused by higher harmonics and protect the power switching devices in the inverter.
Specifications
Reactor model
Matching power
(KW)
Rated current (A)
Outline size (L x W x
H mm)
Install size
L x W mm
OCL-0005(~1200)/1
0.75~400
5~1200
140*90*120
75*55-M6
……
……
420*300*320
220*150-M10
Note: The table above shows size parameters of our conventional products. Customization service is also available. Our input reactor can be designed to a rated current of 2500A.
For more information please contact our staff.